Europe's Rebalancing Act
Capital flows suggest Europeans are regaining faith in their common currency.
by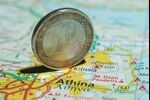 Never mind that Europe's leaders haven't done nearly enough to ensure the viability of the euro. Judging from the flows of money across the region's borders, people are regaining faith that the currency union will hold together.