Brazil Goes Stumping at the UN
At the United Nations, Brazil's Rousseff chooses to play for her home crowd.
by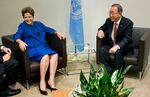 With the Brazilian presidential race in its final days, and President Dilma Rousseff gunning for reelection, the world is her stump. This week, she took the campaign to First Avenue in Manhattan, where, in shimmering blue and a power bouffant, she hailed the nations, with a nod and a wink to the constituents back home.