Apple, Tim Cook and Lousy Press
Katie Benner explores the hellish week of bad press that Apple has endured for problems associated with its iPhone 6 and iPhone 6 Plus rollouts.
by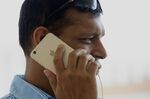 Apple's triumphant product launch turned into a public relations mess in less than a week. Some users couldn't make phone calls after they updated their mobile software. Some new iPhones bent. Bent! Amid all of the bad press, Apple representatives have been fairly quiet as their company scrambles behind the scenes to figure out the best internal and external moves.