view
Press, Lies and #FreeSimmons
Journalists and commentators have been labeling people liars as long as there have been journalists and commentators. Rarely are they disciplined for it, as ESPN suspended Bill Simmons.
by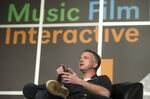 So ESPN, having suspended Bill Simmons for calling Roger Goodell a liar and daring his bosses to act, is now under assault on Twitter, as well as in the sports media.
By now one needn't be a football fan to know that Goodell is the beleaguered commissioner of the National Football League. And even those who aren't sports fans will immediately recognize ESPN as the behemoth you always come across while channel-surfing, where Boise State always seems to be playing football on its blue artificial turf.
So, who's Simmons? He's the editor-in-chief of Grantland, a go-to site for true sports nerds, which mixes its enormously entertaining sports coverage with advanced sabermetrics and primitive snark. Grantland is owned by ESPN, and delivers lots and lots of eyeballs to the network's principal website. Simmons himself is a popular and colorful writer. And on a podcast the other day, he said, among other things, this: "Goodell, if he didn't know what was on that tape, he's a liar. I'm just saying it. He is lying. I think that dude is lying." (If you've read this far, you presumably know that "that tape" refers to.)
Simmons went on to say, "I really hope somebody calls me or e-mails me and says I'm in trouble." His bosses took this as a challenge to their authority, and suspended him. "Every employee must be accountable to ESPN and those engaged in our editorial operations must also operate within ESPN's journalistic standards," the network said.
Most mainstream media commentary has been cautiously critical. Typical was this response by sportswriter Terrence McCoy in the Washington Post:
"The suspension highlights the uneasy -- though lucrative and mutually beneficial -- relationship between the two powerful acronyms, joined in a $15.2-billion contract over 'Monday Night Football.' It also hints at questions over a conflict of interest that, despite its strong coverage of the Ray Rice scandal, ESPN has never been able to shake. How can ESPN simultaneously cover the NFL as a subject while reaping billions from their business ties?"
But the Twittersphere sportsoverse exploded. Check the hashtag #FreeSimmons, and you'll find plenty of gems. Plenty of fans point out that Simmons's three-week suspension is longer than the initial two-week suspension handed out to the Baltimore Ravens' Ray Rice for hitting his then-fiancee. Others threaten boycotts, however unpersuasively. The suspension, one Twitter user said, is "about corporate media control and monopoly." And of course there are the comparisons to the political punditry, such as this reference to Sean Hannity: "If Hannity can call the president a liar & keep his job at fox NEWS, why can't Simmons call Goodell a liar on his own podcast?"
That last point may matter most. Journalists and commentators have been labeling this or that politician a liar as long as there have been journalists and commentators. Sometimes they're wrong, sometimes they're right, but rarely are they disciplined for it. Whatever one thinks of Simmons -- or of Goodell -- one is forced to wonder at what point sports journalism became so profound an avatar of integrity that it must enforce standards that apply to no one else.
As they say at Grantland -- just asking.
To contact the author on this story:
Stephen L Carter at scarter01@bloomberg.net
To contact the editor on this story:
Stacey Shick at sshick@bloomberg.net
Before it's here, it's on the Bloomberg Terminal.
LEARN MORE