Guess What's Holding Back Housing
Efforts to prevent inflated valuations in real-estate appraisals, a feature of the mid-2000s housing-market boom, are leading to more low-ball appraisals, with unsettling consequences of their own.
by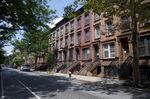 During the U.S. housing boom, real-estate appraisers acted like deal-enablers rather than valuation experts. Indeed, inflated appraisals were a key ingredient in the erosion of mortgage-lending standards that led to the housing bust. Now we are seeing the opposite -- low appraisals -- with unwelcome consequences for the housing market.