Drones Should Drop Medicine, Not Pizza
Deutsche Post DHL will be the first to start regular drone deliveries. Its project -- carrying medicine to a remote island -- has been allowed because it makes more sense than flying in pizza.
by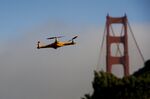 Germany's Deutsche Post DHL is poised to win bragging rights for introducing the world's first scheduled delivery service using drones, beating Amazon, Google or any of the smaller U.S. services working on similar projects. Europe is triumphing after solving two essential questions about drones: finding somewhere that unmanned aerial vehicles offer an unbeatable advantage, and convincing regulators to sanction their flights.