view
Betting on Tesco With Other People's Money
Sports Direct's Mike Ashley should focus on running his shops, not making hedge-fund style bets on Tesco and Debenhams with other people's money.
by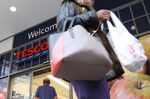 Investors in Sports Direct International, the biggest retailer of sporting goods in the U.K., found out today that 43 million pounds ($70 million) of their money has gone seeking adventure in the stock-market casino, instead of taking care of business at home.
Mike Ashley, the billionaire founder of Sports Direct, has made a bet on shares of Tesco Plc using put options. The supermarket chain's stock has been trashed by about 15 percent this week after revelations that its abacus calculated that two beans plus two more beans makes five beans, overstating first-half profit by 250 million pounds.
Tesco is in a funk. Chief Executive Officer Dave Lewis parachuted in at the start of the month to stop the rot that's sent sales into their steepest decline in more than two decades. The company suspended four executives after uncovering the accounting glitch -- and revealed that it's been flying without a co-pilotfor months, after allowing Chief Financial Officer Laurie McIlwee to ride into the sunset after he resigned on April 4 instead of making him work his six months' notice.
Now, maybe Tesco shares are a bargain at their current price of about 194 pence, down from as high as 312 pence in mid-May. An investor in Sports Direct, however, now has involuntary skin in Tesco's game. The idea that this will give Ashley leverage in trying to sublet space in its stores to sell running shorts and training shoes isn't compelling enough to justify the move.
This isn't the first time Ashley has taken a punt on a fellow U.K. retailer. In January, he revealed a 64 million-pound wager on Debenhams Plc, a British department-store chain. The terms of that transaction weren't revealed, but Debenhams currently trades at about 61.95 pence, down from a closing price of 81.90 pence on the day Ashley told investors about his agreement.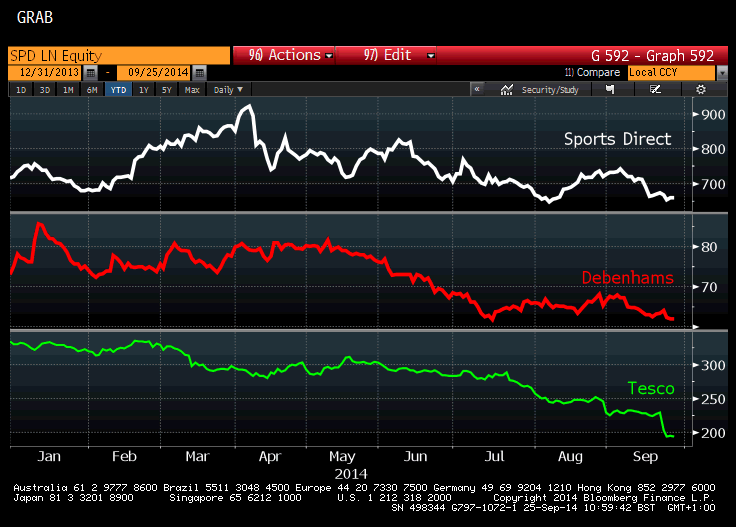 As the chart above shows, none of the three shares Ashley is backing has had a good year. Importantly, that includes the only one he should be involved with: Sports Direct is down more than 7 percent this year -- while the FTSE 100 Index (of which it is a member) has fallen less than 1 percent. Ashley should focus on running his shops, not making hedge-fund-style bets with other people's money.
To contact the author on this story:
Mark Gilbert at magilbert@bloomberg.net
To contact the editor on this story:
Mary Duenwald at mduenwald@bloomberg.net
Before it's here, it's on the Bloomberg Terminal.
LEARN MORE