Washington's Affordable-Housing Bind
How should the booming city of Washington build affordable housing?
by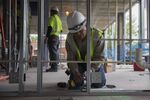 The city of Washington accumulated quite a bit of land during the difficult years of the last 20th century, as landlords abandoned properties and the Feds divested excess property to the local government. Now that the city is booming, it is selling off that land for development, usually with the proviso that whatever is built there must include an affordable-housing component.
But how should that affordable housing be built? What's a better deal from a developer: a lot of expensive housing built on a choice site, with another project in a poorer neighborhood that adds 100 or so new affordable units to the city's housing stock? Or a handful of affordable units mixed in with market-rate housing?
That's a real question that recently came up in D.C., when the government selected a developer for a lot at Fifth and I streets NW. Formerly a declining neighborhood, that area is now surrounded by some very pricey real estate. Multiple developers submitted proposals for the plot. The one that was selected offered 100 affordable units -- in Anacostia. The ones that were rejected had proposed affordable housing on site, but apparently less of it.
You can make an argument for both sides. Concentrated poverty creates more problems than a few poor families in a generally affluent community; people in a wealthier area may have better access to jobs and other opportunities than people in a low-income neighborhood. On the other hand, it is expensive to build low-income units on expensive real estate -- costly to the developer, who loses rent money, and costly to the city, which loses tax revenue because the property is now worth less.
In a city that is trying to ensure that the poor aren't forced out entirely by gentrification, this is a delicate trade-off. Would it like more people who are able to live within the city limits or have fewer people who are able to enjoy the amenities of newly wealthy areas? As many commenters have already acerbically pointed out, rents in Anacostia are already pretty affordable, so it's not clear how adding affordable units there makes much difference. On the other hand, that may change -- rents at Fifth and Eye were pretty cheap 15 years ago -- and tomorrow's affordable-housing advocates may wish that today's advocates had settled for "more" rather than "better located."
In the end, I myself tend to come down on the "more" side. But Washington's housing advocates mostly seem to favor "better located," so I suspect that in the future we'll end up with more poor people in luxury housing -- and also more poor people leaving Washington entirely.
This column does not necessarily reflect the opinion of Bloomberg View's editorial board or Bloomberg LP, its owners and investors.
To contact the author on this story:
Megan McArdle at mmcardle3@bloomberg.net
To contact the editor on this story:
Brooke Sample at bsample1@bloomberg.net
Before it's here, it's on the Bloomberg Terminal.
LEARN MORE