Occupational Hazards of Working on Wall Street
Michael Lewis asks the big question about the army of Ivy League graduates, with seemingly endless career options, who wind up in finance: What happens next to them?
by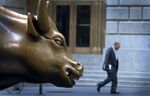 A few times in the past several decades it has sounded as if big Wall Street banks were losing their hold on the graduates of the world's most selective universities: the early 1990s, the dot-com boom and the immediate aftermath of the global financial crisis (Teach for America!). Each time the graduating class of Harvard and Yale looked as if it might decide, en masse, that it wanted to do something with its life other than work for Morgan Stanley.