How Do You Say 'Dot-Com Crash' in German?
Rocket Internet's flotation sells investors a company that makes no revenues from its best-performing investments, but it's a great story anyway.
by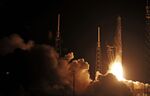 Rocket Internet, the leading player on Berlin's tech scene, is planning the biggest initial public offering in the history of European Internet business. The data the company has had to release before the flotation, however, reveals it as a risky venture in which the IPO appears to be a last chance to preserve the underlying business model.