There's Obama's Rhetoric, and There's History
The paper trail of Obama's United Nations speeches makes this year's tough rhetoric look a lot less convincing.  
by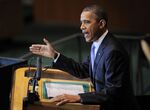 More than a few observers have commented favorably on the pugnaciousness of President Barack Obama's speech today to the United Nations General Assembly. Maybe because I've gone back and re-read all his UNGA speeches, I'm less impressed. What's striking to me is the recurring mismatch between Obama's words and deeds and the trail of fecklessness that's gotten us to this point.