Emma Watson Has the Last Word on Feminism
Let's stop defining feminism and start living it.
by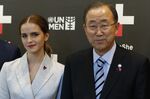 It should be startling that actress Emma Watson's speech on feminism at the United Nations this week generated interest, let alone controversy. The Harry Potter star made a passionate plea for gender equality. In the process, she reminded us that not everyone likes the idea.
Watson, a recent Brown University graduate, is six months into her role as a "goodwill ambassador" for UN Women, a position charged with the amorphous task of "raising awareness." Fewer than 100 words into Watson's speech at the General Assembly, she admitted that "the more I have spoken about feminism the more I have realized that fighting for women's rights has too often become synonymous with man-hating."
She then proceeded to define feminism -- "for the record" -- as "the belief that men and women should have equal rights and opportunities." This echoed American suffragist Susan B. Anthony, who said: "Men, their rights, and nothing more; women, their rights, and nothing less."
Yet more than a century after Anthony's death, and after more than a half-century of intense debate on feminism and the role of women in American society, Watson still felt compelled to offer a definition of feminism.
And she was right to. Because some people find the concept very, very hard to understand. Someone threatened -- in what may have been an ugly marketing stunt -- to leak alleged nude photos of the actress. The incident offers a practical definition of the sexist bullying she admonished in her speech.
Watson has plenty of work to do. In an April 2013 poll, 82 percent of Americans said they believe that "men and women should be social, political and economic equals." Yet just 20 percent of Americans identify themselves as feminist. (Campaigns such as Women Against Feminism don't make it easier.)
At the UN, Watson promoted the new "HeForShe" campaign, which aims to galvanize men to champion gender equality. According to a December Pew study, 75 percent of millennial women think more changes are needed to give men and women equality in the workplace. Only 57 percent of millennial men agree.
Celebrities such as Beyonce, Lena Dunham and Amy Poehler wear the feminist label with pride. Singer Taylor Swift recently realized she is on board. Brands, naturally, sell their wares using female-empowered messages.
But labels only go so far. Here's hoping Hermione's magic advances the cause far enough that we can stop defining feminism and start living it.
This column does not necessarily reflect the opinion of Bloomberg View's editorial board or Bloomberg LP, its owners and investors.