view
Desperate Goodell Turns to the Language Police
Colin Kaepernick became the first player to be fined under the NFL's new effort to penalize "inappropriate language." Now, we may actually know what he said.
by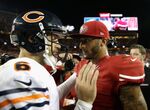 Last week, San Francisco 49ers quarterback Colin Kaepernick became the first player to be fined under the NFL's new effort to penalize "inappropriate language." Now, we may actually know what he said.
Fox Sports's Jay Glazer reports that Kaepernick used some form of the N-word while exchanging barbs with Chicago Bears defensive end Lamarr Houston after throwing an interception. Houston, who was flagged himself for something he said to a referee in Monday night's game against the New York Jets, confirmed Kaepernick's use of the word to the Chicago Tribune.
The NFL is placing increased scrutiny on on-field language as part of an effort to combat racial and homophobic slurs, after a slew of incidents last year that put locker-room culture under the microscope. Most notable was the Miami Dolphins bullying scandal, in which offensive lineman Richie Incognito engaged in a sustained campaign of verbal abuse toward teammate Jonathan Martin.
Yet Commissioner Roger Goodell's policing of language is just another example of NFL overreach in order to avoid addressing the heart of the problem. It might seem strange to discuss the league's tendency to over-discipline players at a time in which we're up in arms over its lax treatment of domestic- and child-abuse offenders, but beyond those issues, the NFL has had a rather heavy hand when it comes to punishment. (Just ask Josh Gordon, or the New Orleans Saints.)
One of the most perplexing aspects of the league's handling of Ray Rice's punishment is that Goodell has had no problem throwing the book at players when it serves his purpose of proving the NFL can be tough on player conduct. Deterring foul language is a way for the league to pay lip service to the ideas of respect and decorum without having to face the bullying and racism that spurred this discussion.
Back in February, Deadspin's Greg Howard adeptly described penalizing words as a smokescreen meant to distract us from the history behind the racial language and the persistent mentality that allows the words to continue to carry such meaning.
We don't like to talk about this, and so we talk around it instead. We get conversations about rap lyrics, referenda on saggy pants. We get rules and hourlong specials devoted to the forms of racism rather than any exploration of the thing itself. We don't talk about where it comes from, or how it expresses itself. We don't even talk about what it actually meant for Richie Incognito to call Jonathan Martin a "half-nigger piece of shit," or the power dynamic in play there — a dynamic that doesn't change if you take one freighted word out of Richie Incognito's vocabulary. The word "nigger" didn't give Incognito license to terrorize the guy he perceived as his lesser; it gave him a tool.
"The problem isn't the word," Howard concluded. "The problem is racism. Nothing is accomplished by conflating the two."
Houston's reaction also demonstrates the fallacy of conflating Kaepernick's use of the word with, say, Incognito's. From the Chicago Tribune:
Asked if he was insulted, Houston said it's more a "cultural thing." Houston reiterated that he incensed Kaepernick on the play by saying "nice pass" at the end of a Kyle Fuller interception. 
Houston's view that the use of the word is a cultural issue is one that's shared by many, and speaks to the highly subjective nature of the very task of policing words -- any words. Context matters: A black player using the N-word to another black player doesn't carry the same connotation as if it's used by a white player, especially in the disparaging way Incognito used it.
That it was Kaepernick speaking also brings up another complicated issue. Kaepernick is of mixed-race and has long had to deal with people making assumptions about him. Being half black and half white, he could very well subscribe to the culture in which use of the word isn't necessarily malicious, even if it was used in a moment of frustration and anger. It's not unfair to wonder if his language would have been deemed as offensive if he, for lack of a better way to put this, looked blacker.
I don't know Kaepernick's cultural experience, or his societal and political views on the use of the N-word. Neither does the official who penalized him, for that matter. Any discussion of the N-word always boils down to one question: When does a word become a slur? I might not be able to give you a definitive answer, but I can say with some certainty that it shouldn't be up to the NFL to decide.
To contact the author on this story:
Kavitha Davidson at kdavidson19@bloomberg.net
To contact the editor on this story:
Tobin Harshaw at tharshaw@bloomberg.net
Before it's here, it's on the Bloomberg Terminal.
LEARN MORE