Your Inversion Is Germany's Takeover
The U.S. government is cracking down on tax inversions just as European companies step up "genuine" takeover deals with the same tax effect.
by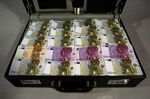 The U.S. Treasury Department's action against tax inversions won't keep all U.S. companies from lowering their tax bills through foreign mergers. Many companies that have been looking for ways to reincorporate abroad will instead become more amenable to takeovers by foreign corporations, whose appetite for U.S. business is growing.