Will Russia's Billionaires Keep Their Villas?
It doesn't take rocket science to locate and seize Russian billionaires' properties abroad. So why aren't Europe and the U.S. doing it?
by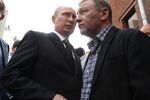 Arkady Rotenberg, Vladimir Putin's friend and judo sparring partner, has become the first sanctioned Russian businessman to see his property seized in Europe. Unfortunately, he's not likely to have a lot of company.