Editorial Board
Who's Missing From the Syria Coalition?
Obama's success in assembling a coalition against Islamic State is impressive but incomplete.
by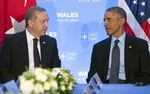 Two weeks ago, President Barack Obama vowed that the U.S. would work with its "friends and allies" to attack the terrorist group Islamic State. Last night, the world discovered exactly who those friends and allies are -- and while it is an impressive list, there is one glaring omission: Turkey.