The G-20's Triumph and Tragedy
The G-20 knows what the global economy needs. Too bad it can't do it.
by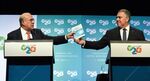 At its meeting in Australia over the weekend, the Group of 20 developed and developing nations demonstrated that they understand what is ailing the global economy: It desperately needs the world's governments to work together in several areas simultaneously to remove obstacles to growth. Unfortunately, there's little chance they will turn understanding into action anytime soon.