Republican Spin Won't Get NFL's House in Order
Has

 

NFL Commissioner Roger Goodell

 

fallen under the spell of

 

Republican spin doctor

 Frank Luntz?
by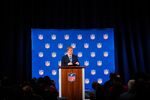 Has NFL Commissioner Roger Goodell fallen under the spell of Republican spin doctor Frank Luntz?
Citing an associate of the pollster, Deadspin reports that the league's insipid press conference on Friday had Luntz's stamp all over it. Goodell was overwhelmingly panned for his failure to address specific concerns regarding the NFL's handling of Ray Rice's domestic violence incident, repeatedly using vague, meaningless phrases such as "We will get our house in order first" -- one of Luntz's signatures. 
After the conference, the "lord of the dark arts of political messaging" went on Fox Sports 1 to give his analysis of Goodell's first public statements in more than a week. "This was language perfection," he gushed. 
Luntz declined to talk to Deadspin's reporter, and a league spokesman denied he advised Goodell before the press conference. But NFL does appear on the "clients" page the Luntz Global website, and Deadspin's source implied Luntz had mislead his audience, downplaying his "personal role" in Goodell's rhetoric. 
In any case, perhaps it's telling of the current media landscape that Luntz and Goodell thought the event would go over well. We've come to expect empty words and feckless posturing from our politicians on the podium, and sports figures are usually no different. The members of the football writing elite in particular have of a reputation for being glorified NFL shills.
But on Friday, everyone from CNN's Rachel Nichols to Peter Alexander to TMZ was all over Goodell, hurling tougher questions at the NFL chief than we've come to expect from the White House press corps. Sports writing tends to descend into sound bytes and grandstanding as the race to gain insider access takes precedent over seeking the truth, but we're starting to see a shift with this ongoing crisis. Even some of the most mainstream sports media are refusing to take the NFL's word at face value.
Part of the reason for that, and the lesson Goodell and the league seems yet to have learned, is simply that most of the NFL's missteps up until this point have been because of its attempt to put a stranglehold the narrative, to obscure the truth and the process in the name of messaging.
This compounding effect of all the misinformation we've been told along the way is a huge reason it's been so hard for fans and media to let go of this story, as we've done with so many NFL domestic violence incidents before. From the Ravens' almost immediate insistence that Janay Rice was equally culpable in the assault, to a senior NFL executive instantly defending the initial suspension, to the evolution from "We weren't given the tape" to "We didn't ask for the tape" to Friday's press conference, every failure to adequately answer our questions has just caused us to ask more.
Yesterday's press conference by Ravens owner Steve Bisciotti was no different. In response to ESPN's detailed report of a months-long, concerted cover-up, Bisciotti issued a 15-point rebuttal in which he didn't say much of anything, and appeared before the media saying even less, except to rip the article as the result of one-sided sourcing from Rice's camp. Aside from deflecting questions by referring reporters to the memo he'd just released, and continuing to state that he probably could have done more to see the tape, Bisciotti characterized the piece as fuel for Rice's suspension appeal and continued to throw Janay under the bus.
When asked about his ill-advised decision to hold a press conference in May with Janay sitting next to her husband as the ultimate prop in damage control, Bisciotti veered off-course by staying on message that even after all this, the continued vilification of Ray Rice is the real problem. "She's still the one that's suffering the most," he said of Janay, "because now she has an unemployed husband."
As Yahoo Sports' Eric Adelson retorted, "No, she is not suffering the most because she has an unemployed husband. She is suffering the most because she was punched in the face by the man she says she loves."
We're all looking for answers, and it's clear we're not going to get any from the team or the league or the commissioner whose words are being crafted by the "death tax" guy. But we shouldn't stop demanding them, because if recent history is any indication, the NFL's formidable propaganda machine could be the source of its own demise.
This column does not necessarily reflect the opinion of Bloomberg View's editorial board or Bloomberg LP, its owners and investors.
To contact the author on this story:
Kavitha A. Davidson at kdavidson19@bloomberg.net
To contact the editor on this story:
Tobin Harshaw at tharshaw@bloomberg.net
Before it's here, it's on the Bloomberg Terminal.
LEARN MORE