Everyone's Running (Clinton Challengers Edition)
Former Virginia Senator Jim Webb hints he could challenge Hillary Clinton for the Democratic presidential nomination.
by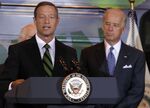 Finally, a Democratic presidential field beyond Hillary Clinton may be emerging. Well, it's a quasi-field, but it got one body larger today, with former Senator Jim Webb of Virginia talking about running on an anti-war platform.