Turkey's Complicated Position on Islamic State
Don't expect Turkey to start sending jets against Islamic State just because its hostages have been released.
by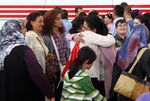 Turkish Prime Minister Recep Tayyip Erdogan says the release of 46 citizens held hostage by Islamic State has freed him to cooperate more substantially with the U.S.-led coalition to destroy the group. It might not be that straightforward.