More Safeguards Won't Make the President Safer
When it comes to the safety of POTUS, the Secret Service considers no price too great for other people to pay.
by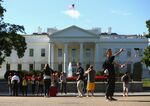 Apparently some lunatic with a knife and an arms cache jumped the White House fence and managed to get all the way to the front door before they caught him. And apparently some other lunatic -- this one in the Secret Service -- has proposed establishing checkpoints in the public areas around the White House in order to prevent this sort of thing from happening again.