Editorial Board
Just Another Climate Summit?
There's plenty to hope for from Tuesday's UN gathering on climate change.
by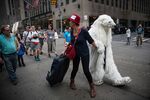 It's tempting to dismiss the United Nations climate summit that starts Tuesday in New York as nothing but an occasion for meetings, marching and platitudes. There'll be plenty of each, no doubt -- to say nothing of Leonardo DiCaprio's speech as UN messenger for peace on climate change, a treat for cynics of all nationalities. Despite all that, the gathering of 125 world leaders isn't a waste of time.