Brazil's Lulapalooza Might Be Ending
If Brazil's Dilma Rousseff loses to challenger Marina Silva, she'll take down Lula's dynasty with her.
by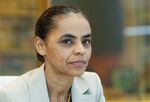 With Brazil's presidential race days away, a whiff of something new is in the air. If the pollsters are right, Dilma Rousseff, the once-favored incumbent and a protege of the legendary Luiz Inacio Lula da Silva, is in trouble, and along with her, a political dynasty.
On Rousseff's heels is Marina Silva (no relation to Lula), a former Workers Party ally who has retooled as a fiscal hawk in soft socialist clothing. Separate polls published this week, by Datafolha and Ibope, showed a tightening race, with Silva trailing in the Oct. 5 balloting, but technically tied with Rousseff in an eventual runoff vote, which will be held Oct. 26 if no candidate wins more than 50 percent of the ballots in the first round. Whatever a Silva regime portends -- and there are huge question marks -- that could be the best news Brazil has had in some time.
To appreciate why, go back a decade or so, when Brazilians were in a lather. Much of the country feared that Lula, the hirsute lefty union man, would win the presidential elections and turn Brazil into an oversize Cuba.
No political dummy, Lula tacked to the center. After failing three times to sell a firebrand's agenda, he had gotten the message: Voters wanted stability and moderation not hellfire and populist moonbeams. Enter the CEO-whisperer, amigo to the middle class, champion of a rules-based market democracy. He even put it in ink in his Letter to the Brazilian People, a manifesto of moderation.
Lula won easily and soothed the markets. The takeaway: Good economics can also be good politics. That was the narrative of his predecessor, Fernando Henrique Cardoso, a reform-minded social democrat, who ended hyperinflation, tackled spending, kept a trade surplus and raffled off money-losing state companies.
It also became the headline across Latin America, where Colombia, Chile, Mexico, Peru and Uruguay chose stability over populist adventure. Yes, there are still the profligate Peronists in Argentina and what remains of former Venezuelan strongman Hugo Chavez's "21st century socialism." But the "Bolivarian revolution" has fallen into dysfunction. Most Latin voters want to join the market economy not overthrow it.
The new Lula followed the script, charming bankers with tight money and the neediest with cash transfers. Then it all went to his head. Buoyed by the commodities boom, Lula decanted the bonanza into consumer credit and reveled as Brazil spent its way through the global financial collapse -- "a mere ripple," he sniffed. Brazil grew 7.5 percent in 2010, and Lula elected his successor, Dilma Rousseff, who had been his chief of staff and before that, Mining and Energy minister.
"Lula caught the perfect wave," said Arminio Fraga, a former Central Bank governor, in a recent interview. Fraga served under Cardoso, and is now chief adviser to Aecio Neves, the former governor of Minas Gerais state and the Social Democratic Party's presidential candidate, currently in third place. Fraga has watched with growing dismay as the Brazilian economy he fought to restructure has unraveled.
It isn't just the financial markets, which soar every time Rousseff's ratings slip. Brazilian investor confidence is low, inflation is up, jobs are harder to get, and the economy has stalled. Instead of new investment, the credit bonanza led to consumer debt and factory bottlenecks.
The bust has come on Rousseff's watch, but this is the coda for the Lula years, which chose the binge over reform and saw Brazil tumble from emerging market promise to laggard in a decade. "In the 16 years prior to Rousseff, Brazil grew at about the same rate as the rest of Latin America," Fraga said. "Under Rousseff, we are two percentage points below the Latin average."
It's telling that Rousseff is running for re-election on an attack-dog campaign that casts Silva as the old Lula, circa 2002. Her slickly done TV spots show food disappearing from family dinner plates and books vaporizing from school children's hands should the new fire eater prevail.
Though Rousseff is still favored in the first round, her negatives surpass her approval ratings. This week's polls show that Brazilians prefer Silva and Neves, with more centrist, market-friendly platforms, over the dirigiste Workers Party.
"Of course the government is saying that if the opposition comes in, the economy will tank," Fraga said. "I hate to break the news, but we're already in recession."
Fraga is convinced that the downturn has made the unpalatable popular. "The menu is sometimes driven by populist rhetoric but we've exhausted that path," he said. "Getting the house in order by reducing the tax burden, opening up the energy sector, making the budget more transparent, and political reform, is a pro-growth agenda."
Brazilians bought this before, under Cardoso and then Lula 12 years ago. Now they have a chance to do it again, by sending off Rousseff.
This column does not necessarily reflect the opinion of Bloomberg View's editorial board or Bloomberg LP, its owners and investors.