How Scotland's Spiral of Silence Unwound
The polls predicted a closer vote in Scotland because of a sociological phenomenon called the Spiral of Silence.
by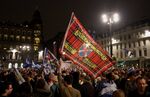 For days Scotland's independence referendum seemed too close to call on the basis of opinion polls, but voting results show a comfortable victory for the pro-union campaign -- 55 percent to 45 percent. German political scientist Elisabeth Noelle-Neumann explained this paradox back in 1974 with a theory she called the Spiral of Silence.