Friday Baseball Blogging: Sometimes You Have to Let Go
What do you miss the most from baseball's past?
by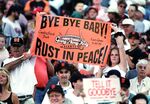 What has baseball lost that makes you sad? I'm not thinking in terms of nostalgia (missing Candlestick Park or Shea Stadium because of the good times I had there even though they weren't the best places to see a game). I'm asking about the things we lost as side effects for really good reasons.