The Fed's Risky Bet on Growth
The Fed is making a risky bet that Congress and companies will do their part to get the economy out of the doldrums.
by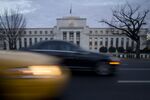 The U.S. Federal Reserve is trying to squeeze a bit more out of a stimulus policy that relies heavily on artificially boosting stock and bond markets to generate growth. In doing so, it is running a higher risk of financial instability, and increasing its dependence on a Congress that shows little sign of being able to handle fully its economic responsibilities.