Jameis Winston and Football's Masculinity Machine
Winston has no motivation to grow up, at least on his current path toward being the top pick in next year's draft. And it definitely doesn't help that people continue to make excuses for him.
by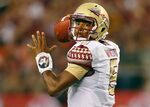 How many second chances is a Heisman winner worth?