Islamic Terrorists Control Our Minds
Americans are suckers for video.
by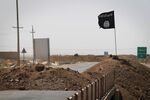 We've been having a pretty enlightened public discussion about domestic abuse these days courtesy of the National Football League. The league wasn't eager to sponsor this conversation any more than star players Ray Rice or Adrian Peterson were looking to become brand ambassadors for brutality. Instead, video of Rice's domestic battery and pictures of Peterson's beaten child forced the conversations. They seem likely to force changes in the NFL, as well. They may even influence broader behavior.