ECB Throws a Party, Nobody Shows Up
By introducing liquidity programs he knows are doomed to fail, Mario Draghi is slowly seducing the Bundesbank into sanctioning quantitative easing.
by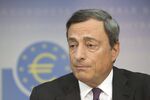 European Central Bank President Mario Draghi is a smart guy, with a career including stints at Goldman Sachs, the World Bank and the Bank for International Settlements. So there must be a reason he has created a bank-lending program that not many banks want to borrow from, and an asset-backed bond purchase program that I can't find a single market participant to applaud.