ECB Throws a Party, Nobody Shows Up

Mark Gilbert is a Bloomberg View columnist and writes editorials on economics, finance and politics. He was London bureau chief for Bloomberg News and is the author of "Complicit: How Greed and Collusion Made the Credit Crisis Unstoppable."
Read More.
European Central Bank President Mario Draghi is a smart guy, with a career including stints at Goldman Sachs, the World Bank and the Bank for International Settlements. So there must be a reason he has created a bank-lending program that not many banks want to borrow from, and an asset-backed bond purchase program that I can't find a single market participant to applaud.
Here's my take on Draghi's tactics. He would like to unleash a full quantitative-easing program echoing the Federal Reserve and the Bank of England, but he can't get it past the Bundesbank. By inching that way, however, with increasingly QE-style programs that are doomed to fail, he's engaged in a slow Machiavellian seduction that will lead the German central bank into acquiescence.

The ECB held the first of its so-called targeted longer-term refinancing operations today. Banks in the euro region borrowed just 82.6 billion euros ($106.5 billion) from the newfangled facility, falling short of the 100 billion euros to 300 billion euros predicted by economists in a Bloomberg survey.
The program is designed to funnel cash into the banking system, which in turn should make its way into the economy and boost investment, jobs and growth. European banks, however, are about to undergo scrutiny of the health of their balance sheets, with reviews of their asset quality and their liquidity coverage ratios. In the absence of companies beating down your door for loans, you would have to be a brave (or foolish) bank treasurer to play fast and loose with your balance sheet, no matter how generous the ECB's lending terms.
Draghi said in August that he was hoping commercial banks might line up for as much as 850 billion euros from the TLTRO cash trough. Earlier this month, he said the ECB wanted to "steer the size of our balance sheet toward the dimensions it used to have at the beginning of 2012," meaning as much as 1 trillion euros in new assets. Today's results suggest that might be a hard slog: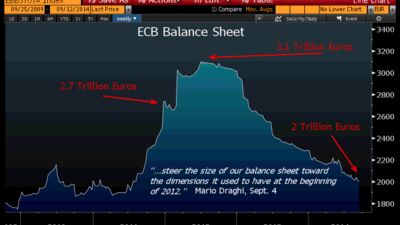 Unless the December TLTRO take-up among banks is a humdinger, QE is coming to Europe -- and better late than never.

This column does not necessarily reflect the opinion of Bloomberg View's editorial board or Bloomberg LP, its owners and investors.
To contact the author on this story:
Mark Gilbert at magilbert@bloomberg.net
To contact the editor on this story:
James Greiff at jgreiff@bloomberg.net