Editorial Board
Apple's New Criminal Appeal
Apple's new security feature will make life harder on cops and users. The only thing it might help, in fact, is Apple's PR.
by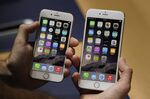 Give Apple Inc. this: It can still capture the consumer zeitgeist. Unfortunately, common sense doesn't always come quite so naturally.
When Apple updated its privacy policy yesterday, with much self-congratulation, it noted that the security features in its new iOS8 operating system would prevent anyone from gaining access to data -- such as photos, messages or e-mails -- stored on mobile devices that are protected by users' passcodes.
That includes Apple itself. And, by extension, law enforcement. Apple will still be able to access data stored in its iCloud service and must divulge that to the cops when presented with a warrant. But anything stored locally will be beyond the reach of both the lawmen and the company's engineers.
Why might Apple do this?
For one thing, it neatly addresses a bit of a public-relations problem for the company, which is still getting over a scandal in which celebrities had nude photos stolen from their Apple accounts just a few weeks ago. Now Apple can blather on to its customers about how their "trust means everything to us" while in the process winning the plaudits of privacy advocates.
Certainly there is also a market, perhaps a sizable one, for a phone whose contents are inaccessible to everyone except its owner. This feature seems designed, in fact, to capitalize on the privacy fears that have intensified over the past year after Edward Snowden's revelations about the National Security Agency.
Such a phone, though, will also have costs -- to society and to Apple's customers.
Consider: The U.S. Supreme Court has already ruled unanimously that law enforcement must acquire a warrant to get access to a mobile phone. That is, they must show probable cause that a crime has been committed. If the phone is protected by a password, the police can then tell its user or its manufacturer to unlock it.
Apple has now removed itself from this legal drama. If authorities come asking for information stored locally on a customer's phone, Apple can say it doesn't have it and has no way to get it. If police want anything on the phone, the user is going to have to let them in -- and it's an open legal question whether the government could force users to give up their passwords, because doing so could violate the Fourth or Fifth Amendments. In other words, Apple's new privacy policy will make it harder for police to do their jobs.

It could also create new hassles for Apple's customers. For one thing, the company now can't help them access what's on their phones if they've forgotten the password. And for all that, this feature would almost certainly do nothing to help them stop the kind of surveillance the NSA conducts.
Apple may hope to burnish its reputation with this policy. But it was already something of a corporate exemplar with regard to security and privacy. If it turns out that this new feature is making life more difficult for law enforcement and more confusing for customers -- well, it may not be quite the P.R. triumph Apple was hoping for.
--Editors: Timothy Lavin, Michael Newman
To contact the author on this story:
The Editors
To contact the editor on this story:
David Shipley at davidshipley@bloomberg.net
Before it's here, it's on the Bloomberg Terminal.
LEARN MORE