Twitter Suggests Scotland Is Going Solo
Academics at Oxford University have analysed Twitter messages, producing data that suggests the momentum is with those who favour independence for Scotland. 
by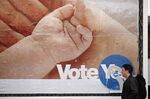 Opinion polls remain inconclusive as to whether Scotland will decide to secede tomorrow, as the final hours tick by before a referendum. Still, an analysis of Twitter messages by academics at Oxford University has shed a little more light, suggesting that the momentum is with those who favor independence.