Putin's Oil Kleptomania
The house arrest of one of Russia's richest man shows Putin's entourage can take anything in today's increasingly isolated Russia.
by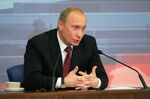 Tuesday's house arrest of Vladimir Evtushenkov, one of Russia's richest men with an estimated $7 billion fortune, is part of an attempt to nationalize his oil business. It also shows how the Western strategy of isolating Russia in response to its external aggression is, perversely, benefiting President Vladimir Putin's close circle of friends: They feel they can grab anything within Russia without regard for their reputations.