Editorial Board
Mission Creep in Iraq? Not.
Citing General Martin Dempsey's remarks as proof that he and President Barack Obama disagree over strategy in Iraq is a misreading of what he had to say.
by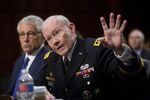 U.S. forces in Iraq "do not and will not have a combat mission," President Barack Obama said today, repeating what he said a few days ago, and a few days before that. Which would be unremarkable except for Army General Martin Dempsey's comments to senators yesterday that U.S. advisers would "accompany Iraqi troops on attacks" if necessary.