Editorial Board
Fed Shouldn't Curb Its Ambition
In its preparations to increase interest rates, the Fed should leave plenty of room to keep supporting a weak recovery.
by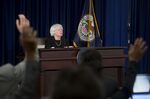 The U.S. Federal Reserve is starting to prepare markets for the end of the longest period of near-zero interest rates in its history. In doing so, it should leave itself plenty of room to keep supporting a depressingly inadequate economic recovery.
In a news conference today, Fed Chair Janet Yellen clarified the central bank's stated plan to keep its short-term interest-rate target near zero for a "considerable time," saying that it is "highly conditional and linked to the Fed's assessment of the economy." Her words likely presage a change in the Fed's language to reflect the coming of the first rate increase, expected next year. Some Fed officials think the central bank may have to start sooner rather than later, to test its exit strategy and curb the financial excesses that its easy-money policies have encouraged.
Given how far the economy remains from where it should be, any forecasts of when rate changes will be needed are guesses at best. Employment among people in their prime working years is still almost 4 million jobs short of what would have been normal before the recession. Those who do have jobs appear long overdue for a raise. Inflation is hardly an issue for the moment: Consumer prices excluding food and energy rose at an annualized rate of just 1 percent over the three months through August, according to the Labor Department. That's well below the Fed's 2 percent target for overall inflation and the slowest pace since late 2010.
Granted, there's good reason to be concerned about financial markets. The quest for better returns in a low-interest-rate environment has prompted investors to lend on unusually easy terms to all kinds of shaky borrowers, from highly leveraged companies to car buyers with questionable ability to pay. The more opportunity investors have to get overextended, the greater their losses will be when the credit cycle inevitably turns.
That said, the Fed has better tools than monetary policy to mitigate financial threats to the broader economy. It can require banks to fund themselves with more loss-absorbing equity, and it can pressure them to steer clear of obvious trouble spots. As a member of the Financial Stability Oversight Council, it can also push for better monitoring of risks that might be building outside the regulated banking system.
For monetary policy, the biggest question is whether the Fed can get employment back to pre-recession levels without generating too much inflation. The concern is that structural changes such as shrinking labor-force participation and decelerating productivity might have made that goal impossible. If so, and without government action to combat stagnation, central bankers might have to write off the livelihoods of millions of people as a permanent loss.
So far, there's little evidence that the Fed has reached the limit of what it can do. Giving up too soon would be a tragedy, even if inflation temporarily overshoots the Fed's target. Hence, the central bank would do well to maintain room for maneuver.