Does No-Ransom Rule Risk American Lives?
The U.S. refused to pay a ransom for James Foley. Was that the right thing to do?
by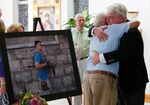 The New York Times has the tragic and affecting account of the efforts of the family of the late James Foley to secure his release from Islamic State. Family members complain that they received little assistance -- and little information -- from the U.S. government. When it became clear via e-mail exchanges from the captors that Islamic State wanted money in exchange for Foley's freedom, the family was warned by the Federal Bureau of Investigation that providing funds to terrorist groups -- even in ransom for a hostage -- was illegal. The family of course became further incensed when it learned that most European governments routinely negotiate payment for the release of their nationals.