Three Reasons to be Terrified of Alibaba
Before you get too excited about owning Alibaba shares, think about how dependent its success is on the whims of the Communist Party.
by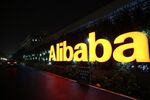 Jack Ma isn't exaggerating when he sells his e-commerce colossus Alibaba as the "everything company." The ever-expanding technology giant, which is on track this week for one of the largest initial public offerings in history, has so many tentacles in so many industries that it can easily strangle small-to-midsize competitors. You'd think Chinese antitrust regulators -- who have recently targeted foreign companies such as Microsoft and Toyota -- would be sniffing around homegrown Alibaba, too.