We Could Be in for a Long Election Night

Jonathan Bernstein is a Bloomberg View columnist. He taught political science at the University of Texas at San Antonio and DePauw University and wrote A Plain Blog About Politics.
Read More.
When will we know which party will organize the 114th Senate?
Democrats have moved up slightly in the latest round of polling, leading the Senate forecasters to inch from a toss-up with a slight lean to Republicans to pretty much a pure toss-up. Here's an update of the predictions of the estimated chances for 51 or more Republican seats: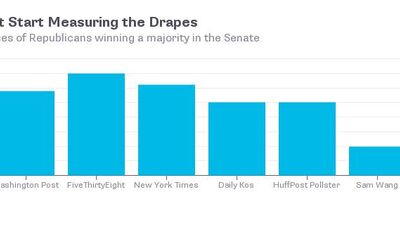 For what it's worth, a straight average of these works out to a 46 percent chance of a Republican majority; that's down from an average of 54 percent when I last looked, on Sept. 3. The big difference over the two weeks is that Kansas emerged as a real battleground. But it's worth remembering: that the numbers here (and especially the numbers at the various sites, most of them with excellent "data vizualization") seem scientific, but at this point everyone is just guessing about what Kansas independent candidate Greg Orman will do if he wins, especially if he winds up as the deciding vote in organizing the Senate.
Which gets me to the point of this post: We could be in for the longest of election nights. Any very close election can take days or even months to be decided, and this time we already have four seats with known risks of continuing past your bedtime:
Alaska: This is being called the tipping-point race. With Republicans having already apparently secured three open Democratic seats (West Virginia, Montana and South Dakota) and having very good chances at knocking off two Democratic incumbents (Louisiana and Arkansas), the Alaska contest may be next in line, becoming either the race that puts Republicans over the top or the one one that has them fall short. Alaska also adds a huge amount of uncertainty; it's considered very difficult to survey accurately, and very few try. Planning to stay up? Alaska's polls close at midnight Eastern time, so if it's at all close you could be up very late indeed (poll closing times here; apparently, about half of the Aleutian Islands close even later, but anyone still on the air at that point will call the state without them).

Louisiana: Tilts Republican; HuffPollster has Republican Bill Cassidy with a 48 percent to 47 percent lead over the incumbent Democratic senator, Mary Landrieu. But that's in a two-person contest. The election in November is a "jungle" primary with multiple candidates, and it would almost certainly go to a runoff, set for Dec. 6. Cassidy will probably be favored, but the race is close enough that the runoff could hold considerable suspense.

Georgia: An even stronger Republican state. HuffPollster shows Republican David Perdue with a 51 percent to 45 percent lead over the Democrat, Michelle Nunn. Still, there is a libertarian on the ballot, and Nunn is within striking distance of holding Perdue under 50 percent, forcing a runoff, which, Ed Kilgore tells us, wouldn't happen until Jan. 6. Perdue would be favored if there is a runoff, and conventional wisdom is that if a runoff was what determined the deciding vote in the Senate, then party loyalty (and therefore, Republican candidates in Louisiana and Georgia) would be helped ... but it's possible that unpredictable factors would enter into the equation.
Kansas: Orman, the independent candidate, has taken a small (and unreliable, given the small number of polls and the unusual nature of the contest) lead over Pat Roberts, the incumbent Republican senator. If Orman wins, we'll then have to wait to find out whether he would caucus with Democrats or Republicans. He's indicated that he would go with the majority party, but that's not binding, and it doesn't hint at what he would do if he was the swing vote. As for the timetable, he could wait as long as he wants, including until he knows the outcome of the other overtime events.
Granted: it's still very possible that either a surge or a bit of luck will mean that all the close seats go the same way, and one of the parties has a clear majority before Alaska closes on election night. Nate Silver, for example, still estimates a 10 percent chance that Republicans will wind up with 55 or more seats; then, only the political junkies will be up past midnight.
But if it's close? That's four reasons the election might go into overtime, with any random nail-biter requiring a recount making it five. That's one long election night.
This column does not necessarily reflect the opinion of Bloomberg View's editorial board or Bloomberg LP, its owners and investors.
To contact the author on this story:
Jonathan Bernstein at jbernstein62@bloomberg.net
To contact the editor on this story:
Max Berley at mberley@bloomberg.net