Volatility Creeps Back Into the Market

Mark Gilbert is a Bloomberg View columnist and writes editorials on economics, finance and politics. He was London bureau chief for Bloomberg News and is the author of "Complicit: How Greed and Collusion Made the Credit Crisis Unstoppable."
Read More.
Volatility, which reached record lows in stocks, bonds and foreign exchange markets this year, is starting to edge higher in currencies. The slow return of volatility is good news for those concerned about financial whiplash if yield-chasing investors all rush for the exit at once.
The trend that drove Deutsche Bank's index of ups and downs in the currency market to its lowest ever finally snapped in July, with the measure rebounding in the past few weeks to its highest level since mid-February: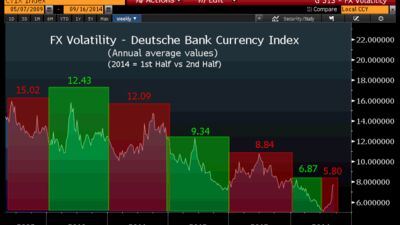 The dollar has surged 6 percent against major world currencies in the past six months, while the pound has weakened by more than 5 percent against the U.S. currency since July on concern Scotland will vote for independence. The euro, amid Europe's flirtation with recession, has slumped to its lowest in more than a year versus the greenback.
Nevertheless, average volatility in the second half of this year still hasn't passed the absurdly low levels of the first six months. That in turn means banks will still struggle to make money trading currencies, the world's biggest market.
In the stock market, volatility remains subdued after a short-lived spike at the beginning of August: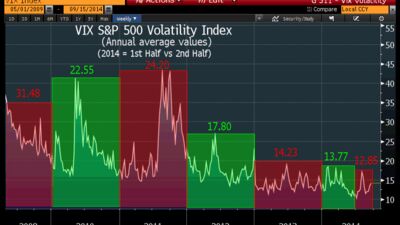 But the bond market, torn between the Federal Reserve's threat to withdraw monetary stimulus and a European Central Bank inching toward a quantitative-easing program, is also stirring from its stupor: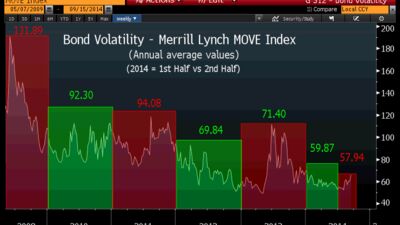 The rise in bond volatility suggests those who expect the world of fixed-income to ignore the Fed and focus instead on what Mario Draghi is plotting at the ECB may be mistaken. The likelihood that U.S. government debt yields will continue to take their cue from German bunds once the Fed is in rate-rising mode seems far-fetched.
This column does not necessarily reflect the opinion of Bloomberg View's editorial board or Bloomberg LP, its owners and investors.
To contact the author on this story:
Mark Gilbert at magilbert@bloomberg.net
To contact the editor on this story:
James Greiff at jgreiff@bloomberg.net