view
My Car Is Smarter Than Your Phone
Car part manufacturers are preparing for the driverless car era, in which they may be as important as Foxconn is to the smartphone industry.
by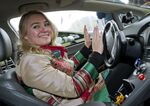 Auto-parts manufacturers have always been in the shadows of carmakers -- it's never been a glamorous business. The recent realignment in the parts industry, though, shows the biggest players are preparing for a new era in which they can be more important than ever with the advent of the driverless car.
Germany's ZF Friedrichshafen AG is buying an American competitor, TRW, for $11.7 billion to set up the world's second-biggest auto component producer. The market leader, too, is German, Robert Bosch GmbH. It had a 50-50 joint venture with ZF to produce electronic steering systems. To avoid antitrust problems, Bosch is nowbuying out ZF's part of the joint venture. These look like big but obscure deals among companies that make boring stuff. A car has about 30,000 parts, and most of them are only of interest to carmakers and garage mechanics.
Tech-revolution enthusiasts should pay attention, however. Electronic steering is what should allow a car to do without a driver. Bosch will now control the technology it had been developing jointly with ZF, while the German company will rely on its U.S. acquisition's considerable experience in the area. TRW, which focuses on safety features, already makes semi-automatic driving and driver-assistance systems that will apply the brakes or control steering in an emergency or keep the car moving in a traffic jam.
In the past 15 years, partsmakers have been assembling bigger and bigger chunks of cars. It's known in the industry as modular assembly. Carmakers have been slow to cede all-important processes to outside contractors, but they are coming around to it because it lets them concentrate on design, marketing and working with customers -- and lay off assembly line workers, who are typically paid more than employees at the parts companies. The parts manufacturers get to develop more and more intricate assembly processes, and customers end up with cars that look different but have entire modules that are exactly the same for several manufacturers and platforms.
Last year, Magna International Inc., a top parts maker, began producing complete tailgates -- lighting, spoilers and all -- for Nissan's Rogue crossover vehicle. Continental AG, another major supplier, builds entire cockpits. ZF makes entire car transmissions and chassis.
That, however, is nothing compared with what's going to happen in the driverless-car era. In a lengthy "blue paper" on autonomous cars, published late last year, Morgan Stanley suggested that producing hardware for the vehicles will become more like making computer hardware. Continental already has partnerships with BMW and Google to work on self-driving cars, and other big suppliers such as Bosch and ZF-TRW, also strive to be technology leaders. As Morgan Stanley wrote:
"We see autonomous vehicles as being highly beneficial to auto suppliers and believe certain suppliers will see tremendous value creation from being early leaders in the space. These suppliers are likely to enjoy an extremely close relationship with the OEMs and will be involved in the design and development of a vehicle at an even earlier stage than they are today. This will be especially true if the supplier is a conglomerate that is also a leader in other parts of the car that will see rapid content growth, such as fuel economy/electrification, active safety, and comfort/convenience (the latter two being closely tied to autonomous vehicle capability). We expect to see a significantly higher level of outsourcing over time. We could also see the emergence of a new breed of suppliers that specializes in low-cost manufacturing (like a Foxconn for smartphones)."
In this paradigm, the carmakers would be more concerned with the increasingly important software side of cars, as well as marketing and distribution. The most successful of them would be like Apple, kingmakers of the most advanced component suppliers. We passengers would compliment Google or BMW on the nice specifications and good build of their latest gadget, remembering only as an afterthought that production was largely outsourced to Bosch, ZF or Continental.
That's why the suppliers' corporate news is worth watching closely in the next few years as the auto industry prepares for perhaps its biggest makeover in a century.
To contact the author on this story:
Leonid Bershidsky at lbershidsky@bloomberg.net
To contact the editor on this story:
James Greiff at jgreiff@bloomberg.net
Before it's here, it's on the Bloomberg Terminal.
LEARN MORE