Calpers Has Lost Interest in Hedge Funds
Passive investing seems to be a pretty good idea for Calpers generally, but not so much for its hedge fund allocation specifically.
by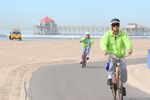 Here is a simple model for hedge fund fees:
There are some people who can reliably generate alpha -- returns in excess of the market return -- but those people are rare.
It is somewhat difficult to tell who those people are; in particular, at any given time, there are more people who look like they can generate alpha than who actually can. 1
If you are one of the people who can generate alpha, you should charge a fee for your services that is equal to the alpha that you generate. 2

If you are not one of those people, you should charge a fee equal to the alpha that those people generate, because then investors might think that you're one of them.
This is a cynical and stupid model but it makes some interesting factual predictions, including
that hedge funds won't compete on fees, because charging a high fee is a way to demonstrate that you can generate alpha,

that the alpha generated by the hedge fund industry as a whole, net of fees, for outside investors, will be negative, 3 and
that the more hedge funds you invest in, the more closely your return will approach the industry-wide return, that is, negative alpha. 4
How do those predictions hold up? Well, the first one is pretty good; hedge funds charge pretty similar fees across a wide range of sizes and strategies. The second one is harder to measure, though lots of the measurements that are done don't find much industry-wide alpha. 5 If you can find the people who generate alpha, and convince them to give you some of it, then that's great. If not, probably stick to indexing.
The news that the California Public Employees' Retirement System will stick to indexing is thus pretty fascinating. Calpers, of course, is good at indexing. Indexing is a big thing for Calpers. Which makes sense. Calpers manages $298 billion. If you have $10,000, you can put it all into like Zynga stock and either make a ton of money or go broke. If you have $298 billion, odds are that you're going to end up getting something pretty close to the market return. 6 Calpers is the market. If you're getting something pretty close to the market return anyway, then indexing is going to be cheaper and easier than spending a lot of time and money trying to get a slightly-better-than-market return.
The weird thing is that Calpers seemed to apply a not-dissimilar approach to its $4 billion of hedge fund investments; it apparently had "24 hedge funds and six hedge fund-of-funds" in its portfolio. My first reaction was: Why does Calpers invest in funds-of-funds? You or I or our rich friend might invest in a fund-of-funds because it's the only way for us to get access to good managers, or because we only have a few million dollars and want to diversify among several managers, or perhaps because we lack the expertise to pick really good managers. But Calpers? Calpers is the elephant in the cliché; it can get access to any hedge fund that any fund-of-funds can get access to, and with $4 billion in hedge funds it can self-diversify.
But it ... seems to have really wanted to diversify? Like, if you want to invest in a bunch of hedge fund subclasses, sure, hire funds-of-funds to pick your managers in each subclass, so that all your bases are covered, and you don't have much concentration risk with any manager. But concentration risk is sort of the point of hedge fund investing. Remember, the more hedge funds you invest in, the more closely your return will approach the industry-wide return. Which is not where you want to be.
Particularly if your hedge fund allocation is just $4 billion of a $298 billion portfolio. That's a lot of money -- enough to require splitting among multiple managers -- and yet it's not much of the portfolio. And so some of the generic arguments for hedge funds -- that they diversify your portfolio and shield against adverse market moves -- look a little silly here. Like, sure, Calpers can invest in an equity long/short fund. But almost 40 percent of Calpers -- over $100 billion -- is in U.S. public equities, much of it invested passively. So it's nearly certain that if Calpers is short a stock via the equity long/short portion of its hedge fund allocation, it is also long much more of that stock, because it is long a ton of every stock. You will not find "long a stock, and short the same stock at hedge fund fee rates" on the efficient frontier.
I like to quote the old line that, "Hedge funds are a compensation scheme masquerading as an asset class," but the best way to think about them is as neither. A hedge fund, ideally, is a smart person making smart trades with your money and giving you some of the profits. But once you allocate an absolutely large, yet relatively small, amount of money to hedge funds as one asset class among many, you run into the problem that they're not an asset class. Your hedge funds are investing a little bit of money in the things -- stocks, bonds, etc. -- that you were already investing a lot of money in. 7 They're just charging more for it.
So the Calpers indexy approach to investing doesn't work so well with hedge funds. I suppose it could try the other approach -- concentrate on a few managers who are actually adding value to the portfolio -- but that is not easy. It is hard to pick the good hedge funds. So you need to hire smart people and pay them big salaries to pick your hedge funds for you, just as you'd have to hire smart people and pay them big salaries to pick stocks or bonds or any other investments for you. 8
But once you have hired people to invest some of your money in hedge funds, they will want to invest more of your money in hedge funds. Their job, after all, is to invest your money in hedge funds, and for some reason people invariably want to do more of their jobs, that is like a defining feature of the modern condition. More concretely, expanding their portfolio lets them argue for higher pay and more status and more subordinates and so forth. And investing in more hedge funds lets them hobnob with (and do favors for) hedge fund and fund-of-fund managers, which has its own advantages. (Not that hedge fund managers are awesome, I mean, but that they might hire them later at higher-than-Calpers salaries.)
So a hedge fund allocation will have a natural tendency to grow, stop focusing on good managers, and become more like an index of hedge funds. And that would not be surprising at Calpers, which has a tendency toward indexing anyway. But it's probably a bad tendency, for the hedge funds. The simplest way to stop it is to cut it off at the root, by cutting out the hedge funds entirely. If they weren't really working as an asset class anyway, then Calpers won't miss them when they're gone.
To contact the author on this story:
Matthew S Levine at mlevine51@bloomberg.net
To contact the editor on this story:
Zara Kessler at zkessler@bloomberg.net
Before it's here, it's on the Bloomberg Terminal.
LEARN MORE