Will the Fed Avoid a 'Language Tantrum'?
Mohamed El-Erian explores the challenges the Fed faces in communicating interest rate policy and its economic outlook during this week's FOMC meetings.
by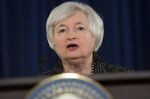 Tomorrow was supposed to be the kickoff of a straightforward, two-day policy meeting for the "steady as she goes" Federal Reserve. Instead, recent data releases have turned the gathering into a cliffhanger for markets and a challenge for a central bank that has struggled before to effectively and ably communicate tricky policy transitions.

Let's start with the more predictable outcomes that might emerge from this week's Federal Open Market Committee meeting, during which the Fed sets rates banks use to lend funds to one another and also issues assessments of the economy, financial markets and what lies ahead on the policy front.
Look for the Fed to keep rates unchanged, slightly upgrade its assessment of U.S. economic growth, and finalize an exit from its much-discussed "quantitative easing" program. In doing so, the Fed will continue to embrace a more holistic assessment of the labor market, pointing to positive momentum that, nevertheless, still hasn't returned to full force.
The Fed will also be releasing FOMC members' projections for growth, interest rates, inflation and unemployment from now until 2017. The data -- including "blue dot" graphics that represent FOMC members' rate predictions -- represent a key part of the Fed's communication challenge. In addition to rate predictions, the Fed will also decide whether to tweak its forward-policy guidance (with particular interest given to its discussion of how long it will maintain its current floor on rates). Any change in that language puts in play three issues that influence how investors and traders price most financial assets: when the first increase in policy interest rates since 2006 takes place; the likely "terminal" value of interest rates for this cycle; and how long it is likely to take to get there.
Over the last few weeks, various Fed officials, responding to a strengthening and broad economic recovery, have signaled greater comfort with the possibility of normalizing rates without damaging growth and the job market. They also may be increasingly unsettled by signs of excessive risk-taking in financial markets. While most observers agree that the terminal value of the Fed's interest-rate target for overnight loans between banks will be below its historical average, there is disagreement as to how much lower it will be and what the rationale will be for maintaining that posture.
I strongly suspect that when the Fed ponders how to communicate with investors this week, it will take into account what happened early last year when former Fed Chairman Ben Bernanke introduced the concept of a "taper" to investors.The result was a widespread financial market disruption. This "taper tantrum" alarmed a Fed that has no choice but to artificially support financial markets with forgiving interest rates as a means of pursuing its broader economic objectives.
So the Fed will do everything it can to avoid another tantrum by being very clear that the timing and intentions surrounding any rate changes are highly data dependent and will not be allowed to derail the recovery or disrupt markets. But that's not a straightforward process, as the Fed knows all too well.
Policy communications are challenging, especially when an economy is near an inflection point -- as the U.S. economy is now. Ultimately, after much discussion, it will come down to the personal judgment of the FOMC's most influential members.
I wish I could be more definitive but my sense is that there is a very slight likelihood -- but just a very slight one -- that the Fed won't change its guidance at this stage. All of which is another way of saying that we are in for an interesting week.
This column does not necessarily reflect the opinion of Bloomberg View's editorial board or Bloomberg LP, its owners and investors.
To contact the author on this story:
Mohamed Aly El-Erian at melerian@bloomberg.net
To contact the editor on this story:
Timothy L O'Brien at tobrien46@bloomberg.net
Before it's here, it's on the Bloomberg Terminal.
LEARN MORE