Hillary's New Message Should Scare Republicans
Hillary Clinton isn't talking about income inequality anymore. That's smart politics. And it should scare Republicans.
by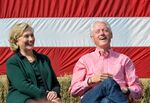 Over the weekend, Hillary Clinton went to Iowa for the first time since she lost the caucuses there in 2008. If her remarks there are any indication, she's planning to campaign­­ for president in 2016 on two themes: the war on women and middle-class economic struggles.