Goodell Should Suspend Himself Next
How Roger Goodell can make a genuine sacrifice for the NFL.
by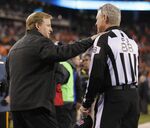 The National Football League is a business. It provides a valuable entertainment service. For the first two weeks of the 2014 season, the league has presented an exciting slate of games, with plenty of upsets and highlight plays and last-minute heroics. Unfortunately the attention of much of the public -- especially the attention of people who aren't fans -- remains on the league itself and not on the games. This diminishes the value of the product.