Europe Can't Stop U.S. Internet Spies
Edward Snowden's revelations remain a source of aggravation for European politicians, who can do nothing about Silicon Valley's hold on European Internet users.
by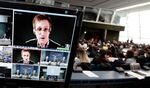 The revelations of National Security Agency leaker Edward Snowden may be old news in the U.S., but for Europeans they remain a constant source of aggravation -- and frustration at their powerlessness to do anything about the U.S. dominance of the global Internet.
Last week, the German weekly Der Spiegel reported another Snowden leak concerning an NSA program called Treasure Map -- an alleged attempt to map the entire Internet, including each end user device. It apparently involves infiltrating Germany's biggest Internet service provider, Deutsche Telekom, which has 60 million mobile, fixed and broadband customers in this country of 80 million. U.S. intelligence may have also targeted other German providers, possibly accessing users' personal data in contravention of local laws.
Treasure Map could take Germany's problems with NSA intelligence-gathering to a whole new level. As opposed to the tapping of Chancellor Angela Merkel's mobile phone -- the only case currently under investigation -- this concerns every German Internet user. The German parliament's investigative committee is already showing interest. Still, beyond expelling the occasional U.S. intelligence officer, there's only so far Germany can go in expressing its dissatisfaction with the U.S. government: The two countries have to present a united front given the perceived common threats from Russia and Islamic militants in Syria and Iraq.
U.S. companies such as Apple, Facebook, Google, Microsoft and Yahoo, now seen as conduits for U.S. spying, are a different story. Google, which is already facing difficulties with "right to forget" rules and a nagging antitrust case in Europe, has attracted the ire of German Economy Minister Sigmar Gabriel, who wrote that the bastion of "data capitalism gone wild" should be broken up. Although Gabriel did not refer to the NSA directly, he made a sinister reference to "a handful of American Internet corporations which, in the form of global trusts, might soon control not only the economic activities of the 21st century." Separately, influential publisher Mathias Doepfner, chief executive of the media company Axel Springer, wrote an open letter to Google Chairman Eric Schmidt titled "Why We Fear Google."
The U.S. companies are doing their best to control the damage. Schmidt told the Financial Times that he was opposed to Google's participation in NSA programs. Yahoo published hitherto-classified 2008 court documents showing that the U.S. government had forced it to reveal user data and used the courts to impose a gag order on it concerning the practice. Whatever the companies' opinions might be, though, they can't change the fact that they facilitated spying and will keep doing so if the U.S. government so requires.
There's not much Europeans can do to counter the U.S. companies' global dominance. Google has a 90 percent share of search in Germany. Facebook has effectively killed off German-based social networks such as Lokalisten and VZ Netwerke, as it did throughout Europe. Germany now ranks fifth in the world by Facebook traffic. NSA or no NSA, Germans and other Europeans are using the U.S.-based services because there are no comparable local ones. Germany's biggest Internet company, Rocket Internet, which is now planning a $1 billion IPO, specializes in aping U.S. business models and entering markets Americans have not yet conquered.
European Union regulators can squeeze U.S. companies and politicians can express outrage about the NSA's boundless curiosity, but the status quo won't change unless credible European competitors to the Silicon Valley giants emerge, offer to play by local rules and win over users.
This column does not necessarily reflect the opinion of Bloomberg View's editorial board or Bloomberg LP, its owners and investors.
To contact the author on this story:
Leonid Bershidsky at lbershidsky@bloomberg.net
To contact the editor on this story:
Mark Whitehouse at mwhitehouse1@bloomberg.net
Before it's here, it's on the Bloomberg Terminal.
LEARN MORE