view
Banks Turn Cash Into Mortgages and Back Into Cash
The point of banking is to conceal risk, but banks often need the government to help with that. Fortunately the government often obliges!
by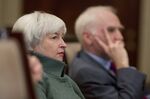 Here is a quite wonderful post by Tracy Alloway at FT Alphaville about the Federal Home Loan Banks and the Liquidity Coverage Ratio. The issue, as it always is, is that:
everyone wants banks to be safe, but

everyone wants banks to do banking stuff.

The particular flavor of "safe" here is: Look, the big systemic risk of banks is runs on the bank. The way (a way) to reduce the risk of runs is for banks to just have a bunch of cash lying around. That way, if everyone comes into the bank yelling for their money back, you can just give them their money back.
But of course there'd be no point to a bank that just has a bunch of cash lying around. The whole point of a bank is to take cash from depositors and use it to do stuff. The particular flavor of stuff at issue here is mortgage loans. Banks take cash from depositors and lend it to people to buy houses. That's good, that's what they're supposed to do. But then the banks aren't safe, because if there's a run on the bank all the money is in mortgage loans, and you can't give depositors back mortgage loans, there is actually a movie about that.
So obviously what you should do is find a way for banks to take in cash, use it to make mortgage loans and then magically transmute it back into cash. And the U.S. financial system, being wonderful, has a way to do just that. It's called an advance from a Federal Home Loan Bank. Basically the FHLBs are government-sponsored enterprises that lend banks cash, at very low subsidized variable rates, 1 secured by the banks' mortgages. The FHLBs get the money by selling bonds, which are implicitly government guaranteed. 2
So the system is, schematically:
Depositor deposits $1 at bank.

Bank makes $1 mortgage loan.
Bank borrows $1 against mortgage loan from FHLB.
Bank has $1 in cash.
FHLB borrows $1 from the market for safe agency bonds.
Here is a fake balance sheet for the system: 3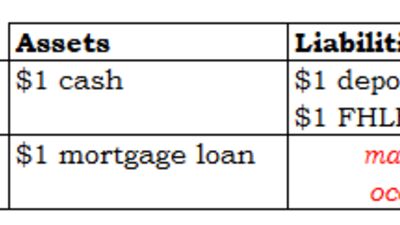 The magical result is that:

from a depositor's perspective, the bank is safe, because it has lots of cash;

from a mortgage borrower's perspective, the bank is nice, because it is giving the borrower a loan.

Everyone wins! And this is not a sneaky piece of evildoing. This is what banking is. The point of banking is to conceal risk. Banking is the business of issuing risk-free liabilities and using them to purchase risky assets. That's the whole business. The system exists to perform the magic in the lower-right-hand corner of that diagram.
You can get outraged about this 4 but to what end? Imagine that banks couldn't do this. Then they would either:
make fewer mortgage loans (bad!),

have less liquidity and be more vulnerable to runs (bad!), or

find some other way to transform risky mortgages into safe cash.

I didn't supply a "(bad!)" at the end of that last option, but you can probably supply your own. "Let's package our risky mortgages into mortgage-backed securities and bamboozle ratings agencies into giving those securities AAA ratings so that investors think they're risk-free," is more or less a thing that people thought and then did and then regretted. At least with the FHLBs, the magical transformation is conducted by a willing participant and explicitly blessed by the government.
Generally speaking there are about three ways for banks to perform their magic function of transmuting risky assets into safe liabilities. One is to, like, be good at the job: take in deposits and use them to make careful diversified loans while managing liquidity carefully. Another is to trick people: just tell them that stuff is safe even when it isn't. And the third is to rely on government guarantees, since the best way to ensure that liabilities are safe is to be the issuer of the currency in which they're denominated.
That last one is pretty controversial -- why are the banks gambling with taxpayer dollars? -- but it is also the only entirely reliable one. The point of banking is to conceal risk, but banks often need the government to help with that. Fortunately the government often obliges! The widespread sense that banks relied too heavily on trickery before the last financial crisis -- and on government backstops during that crisis -- makes it hard for anyone to trust them to do the safety transmutation on their own these days. So you can't be too surprised that, when they're told to do a better job of managing their liquidity, they end up falling back on governmental backstops to do it. If you have access to magic that works, why wouldn't you use it?
To contact the author on this story:
Matthew S Levine at mlevine51@bloomberg.net
To contact the editor on this story:
Zara Kessler at zkessler@bloomberg.net
Before it's here, it's on the Bloomberg Terminal.
LEARN MORE