Scots Aren't the Only Angry Bunch
If Scots vote for secession this week, they'll shock the world. But they may simply be signaling the start of a trend globally.
by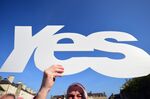 This week's referendum in Scotland could result in the U.K. losing almost one-third of its landmass, and 8 percent of its population, and, very likely, its present prime minister. In a summer rich with shocks, the breakup of a United Nations Security Council member suddenly seems more likely than the long-predicted fracturing of Iraq.