Has Apple Lost China?
A delay in the release of the iPhone 6 in China may be a fluke -- or part of Beijing's campaign to promote a booming local smartphone industry.
by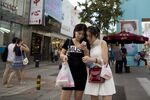 It's been a tough couple of years for Apple in China, the world's top smartphone market. Cheap but stylish Chinese phones have undercut the U.S. company's sales and cachet. Meanwhile, the Chinese government has repeatedly targeted Apple, initiating a campaign in state media against its warranty repairs in spring 2013, then this summer accusing its devices of posing a risk to state secrets.