view
Jerry Brown, Gubernatorial Geezer
How old is too old to lead the world's eighth-largest economy?
by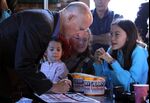 If he is re-elected in November, California Governor Jerry Brown, 76, will be the oldest person elected governor in state history. Actually, he's already the oldest sitting governor in California history.
By the time Brown leaves office, presuming he does, he will be 80. He will be California's longest serving governor (again, he already is). He has had considerable success. Last week, at the only scheduled debate between the governor and his Republican rival, Neel Kashkari, Brown highlighted, "This is the eighth-largest economy in the world. Before I became governor, it was the ninth largest."
Being chief executive of such a state is a huge responsibility. When does a political leader become too old for it?
The U.S. Senate has a handful of octogenarians. But the burdens of old age are more easily borne in a legislature, where responsibilities are diffuse and peers and staff can do the heavy lifting. The republic didn't come to a screeching halt when Senator Strom Thurmond celebrated his 100th birthday in office. Representative Ralph Hall of Texas, who at 91 has 15 years on Brown, is the oldest serving member of Congress. But voters set an end to his career in May, when he was defeated in a primary runoff for the Republican nomination.
Other governors have been in Brown's age range -- and beyond. In 1939, after the governor's death, Luren Dickinson became governor of Michigan shortly before his 80th birthday; when he ran the next year for a full term, however, he lost. Hawaii's current governor, Neil Abercrombie, is just a few months younger than Brown, though he, too, recently lost his re-election bid. Brown, who at 36 was California's youngest governor in more than a century when he was first inaugurated in 1975, even has at least one peer with his elastic range. Former West Virginia Governor Cecil Underwood was elected both as a young man (entering office in 1957 at 34) and an old one (returning to office at 74). You know how this ends, right? Underwood lost his re-election attempt at age 78.
With a 16-point lead among likely voters in the most recent Field Poll, Brown seems destined to fare better. Of course, California is ever an outlier. It's not just the most populous and economically powerful state. It's also notable for its dependence on youthful ingenuity -- whether the hoodie-clad 20-something in Silicon Valley or the young starlet in Hollywood. The median age in California is about two years younger than the median age in the U.S. In 2013, only 12.5 percent of the state's population was 65 or older, compared with 14.1 percent in the country as a whole.
Yet Brown seems able to keep up with the state's youthful pace (see his 2012 athletic challenge to New Jersey Governor Chris Christie). And here's another reason not to belabor Brown's age: In 1943, Walter Goodland became acting governor of Wisconsin at 80. He took office after the governor-elect, Orland Loomis, unexpectedly died at 49. He was no Jerry Brown. The kid lacked staying power.
To contact the author on this story:
Zara Kessler at zkessler@bloomberg.net
To contact the editor on this story:
Frank Wilkinson at fwilkinson1@bloomberg.net
Before it's here, it's on the Bloomberg Terminal.
LEARN MORE