Is Mets' 'Morality' Also Near the Cellar?
Castergine accuses co-owner Jeff Wilpon of stating "in a meeting of the team's all-male senior executives that he is 'morally opposed' to her 'having this baby without being married.'"
by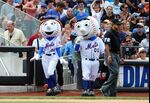 It's been an awesome week for women in sports.
Take a break from the latest depressing revelation of the NFL's complete disregard for domestic violence victims to read about Leigh Castergine, a former executive for the New York Mets who is suing the team, saying it fired her for being pregnant and single.
In a federal lawsuit filed Wednesday, Castergine accuses co-owner and chief operating officer Jeff Wilpon of stating "in a meeting of the team's all-male senior executives that he is 'morally opposed' to her 'having this baby without being married.'" She was the first female senior vice president in Mets history before being let go last month.
Details from the suit were reported by the New York Post and, if true, are sickening:
"Wilpon told her that when she gets a ring she will make more money and get a bigger bonus," the filing claims.

"I am as morally opposed to putting an e-cigarette sign in my ballpark as I am to Leigh having this baby without being married," Wilpon said in a meeting over a proposed ad deal, according to the suit.

The son of Mets principal owner Fred Wilpon even warned Castergine's co-workers to refrain from taking any interest in her unborn child.

"Do not rub her belly," the suit says he commanded. "Don't ask how she's doing. She's not sick, she's pregnant."

And it only got worse after she gave birth, Castergine claims. "Something had changed," in her then, Wilpon told her, according to the suit. "Wilpon told her that she was no longer as 'aggressive' as she used to be."
This, of course, would be completely illegal under the Pregnancy Discrimination Act, an amendment to the 1964 Civil Rights Act. It's especially distressing to those of us who believe that the presence of more female executives could help teams and leagues avoid the sort of disaster we're currently witnessing in the NFL. Not only did the old boys' baseball club lose one of its few female members, Castergine's claims send a stark message to women looking to rise the ranks of male-dominated industries, reinforcing every woman's worst fears about the occupational barriers she faces simply by having a uterus.
This isn't simply about the question of whether powerful women can truly have it all. Castergine is telling us that Jeff Wilpon didn't even give her that chance, invoking the so-called "motherhood penalty" -- the idea that being a mother somehow conflicts with being an "ideal worker."
According to the suit, after giving birth in March, Castergine returned to the team in June and received her first negative review in her four-year tenure.She was told she wasn't meeting ticket-sales expectations. One suspects that might have had more to do with the team's sub-.500 record than with the lack of a wedding ring on her finger.
Morality's a funny thing. Some Mets fans, for example, might be "morally opposed" to entangling the entire team's finances in Bernie Madoff's ponzi scheme. Others might be morally opposed to trashing the face of your franchise in public. If I were a Mets fan, I might be morally opposed to treating the team's 1986 World Series hero like a "hood ornament." The majority of Mets fans, I'm guessing, would be morally opposed to allowing Bank of America to limit their payroll and continue to field a team not worth watching.
This column does not necessarily reflect the opinion of Bloomberg View's editorial board or Bloomberg LP, its owners and investors.
To contact the author on this story:
Kavitha A Davidson at kdavidson19@bloomberg.net
To contact the editor on this story:
Toby Harshaw at tharshaw@bloomberg.net
Before it's here, it's on the Bloomberg Terminal.
LEARN MORE