Inside My IPhone Purgatory
My long, tireless journey to iPhone 6 redemption.
by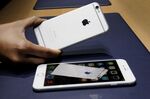 I woke up a bit before 4 a.m. in New York this morning, having planned to wake up shortly before 3 a.m. (which would have been shortly before 12 a.m. in California). Like bazillions of other mobile fanatics, I had carefully positioned myself to be ready when Apple's iPhone 6 and 6 Plus were set to go on pre-sale. I planned to soon be skating across an outsize phone screen, swooning over extended battery life and attracting jealous glances from onlookers on the subway.